Some note when choose racking system
1. The importance of store shelves in life
Customers are organizations / businesses:
The world economic integration has created many opportunities to develop in parallel, which are challenges, especially in the period of world economic crisis, domestic enterprises are equally affected. In order to survive and develop, enterprises must find new directions, improve their capacity and competitiveness from the products and services that businesses are providing, meeting the needs of target customers. enterprises such as innovating models, improving production technology, changing the product content to create new products, ... besides, it is necessary to tighten the management of input materials, ensure the supply of quality, tight control of all stages, semi-finished products, finished products, after-sales services after sales.
Especially for businesses specializing in the distribution, supply and production of large quantities of goods, it is necessary to store a lot of products to meet the market, however, the climate in Vietnam is always hot and humid. The storage of goods needs to be ensured to avoid damage, the warehouse space needs to be airy and neat so that the goods can move quickly. Therefore, the racking system is available to meet all requirements for goods preservation for businesses.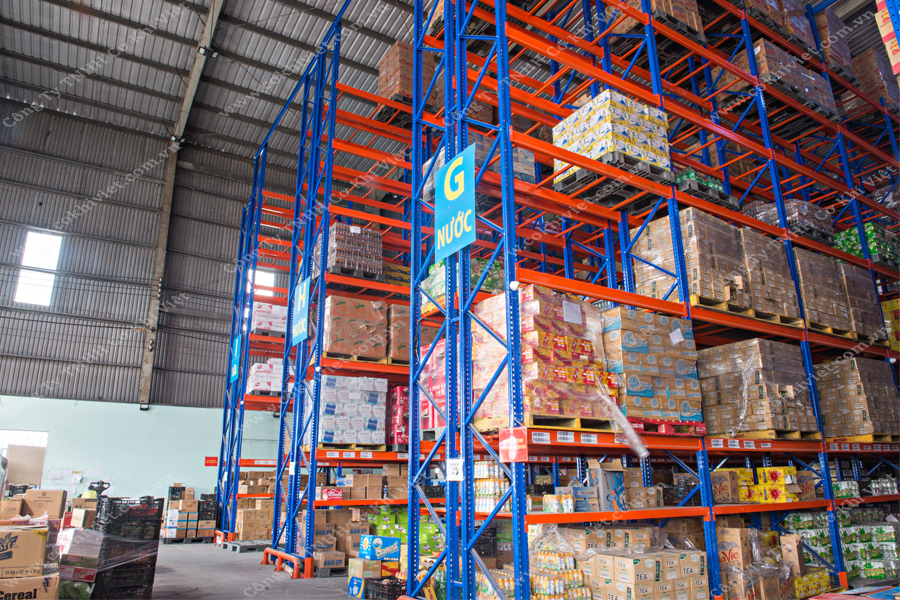 Customers are households and individuals:
Living space is increasingly tight, especially for families in big cities so we often have to think of ways to arrange furniture in the house so neat and tidy. Moreover, the living environment is gradually polluted affecting health by many different actors: from food, drinks, air, household items, ... especially young children and people. old.
Characteristics of the environment in Vietnam are hot and humid all year round, creating favorable conditions for pathogens, mold, microorganisms, mice, cockroaches, harmful insects, ... affecting the environment.
Realizing the needs of customers on racking system to arrange appliances and household items is extremely large. Therefore, we are constantly improving our products with a variety of models, not only a cold gray shelf, but also instead of modern colors, personality: yellow, red, orange , blue, white, black, ... not only stop there, products shelves, assembly shelves, display shelves with a variety of styles, different sizes, depending on the purpose of use that you will be consulted about suitable shelves.
2. Notes when conducting select shelves
Before proceeding to choose to display shelves, shelves, shelves, ... please research and answer the following questions to understand your needs!
What is the type of goods and products you need to preserve?
Determining the volume of goods including the size and style, the purpose of using a shelf is to display, store or sell goods.
Determine shelf area: height, width, length, ..
If using display shelves for sales purposes: it is necessary to determine the display area for sales, the promotion area, the area for marketing, the management area, customer care, ...
The key products of the store should be arranged in an easy-to-see position like the right hand side, or positioned in front of the shelf. On the shelf need to arrange goods evenly, avoid placing too many goods on one side.
3. Material of steel shelf of Viet Mechanical
The main material of Vietnamese mechanical racking system is made of high-grade steel sheets, with firm thickness, the surface is anti-rust, electrostatic anti-oxidation, anti-harmful from the environment. .
For customers who need to use shelves to display and sell products such as clothes, shoes, helmets, pots and pans, groceries, machinery, supplies and cosmetics, they should use steel racks and shelves. V holes. This is a kind of storage shelves reserved for goods with loads from 50kg to 600kg.
A few pictures of yourself to refer customers:
V-hole steel racks have 2 types: V-steel wooden shelf & steel V-steel shelf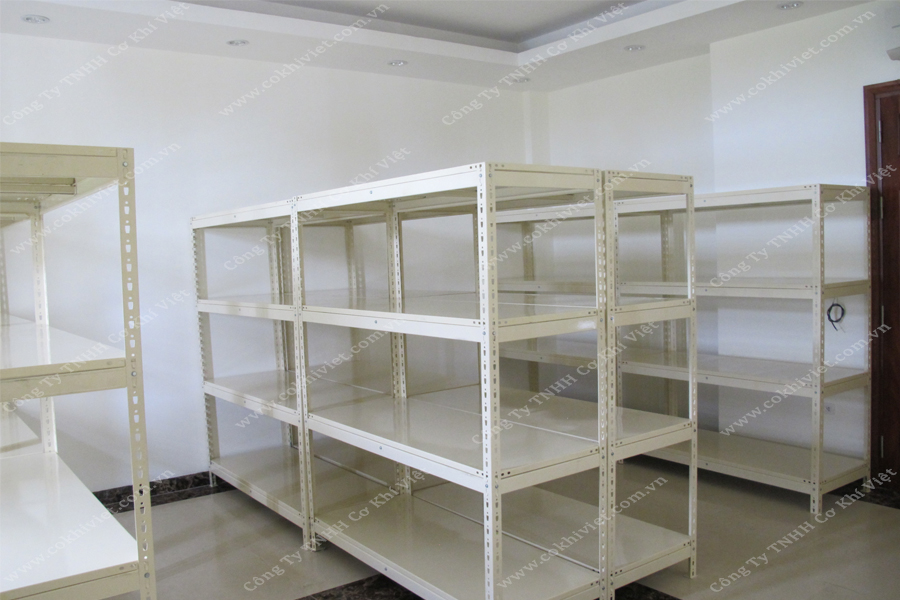 Steel V Racking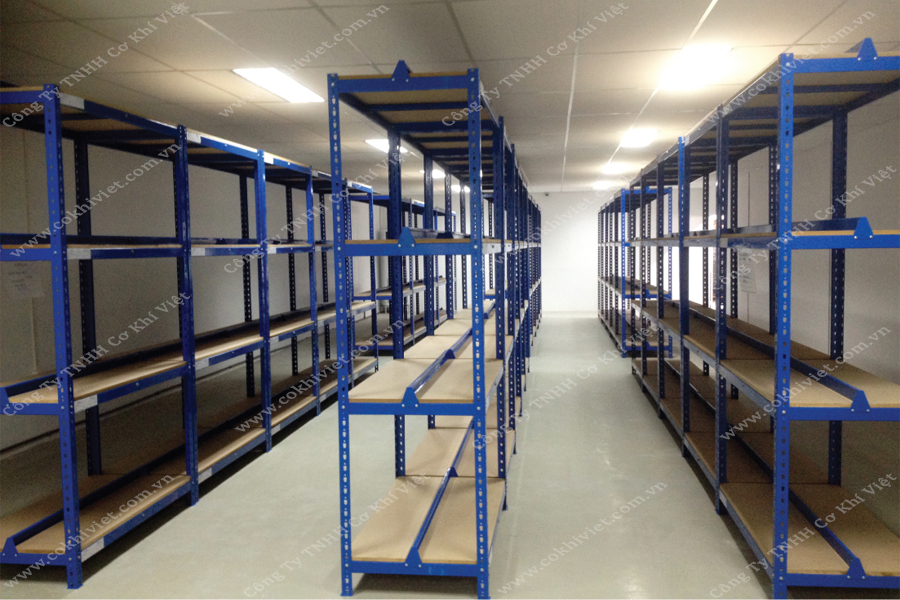 Steel V Racking
For customers who are agencies and businesses that need shelves to store documents, they should use light loading racks, steel V racks, 2in1 racks or filing cabinets, iron cabinets, locker cabinets, ... Mechanical Vietnamese gas designs are diversified models, many colors, many compartments, ... There are many samples for customers to refer as follows: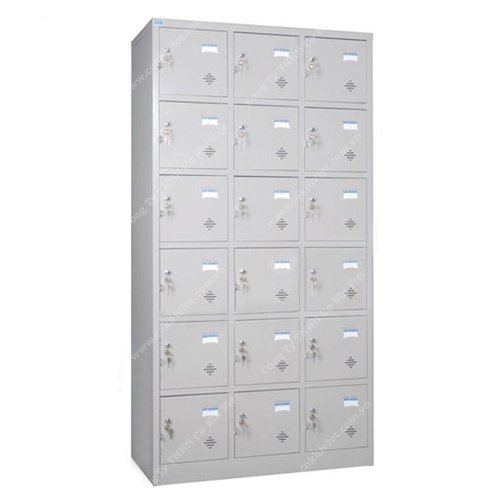 Cabinet-01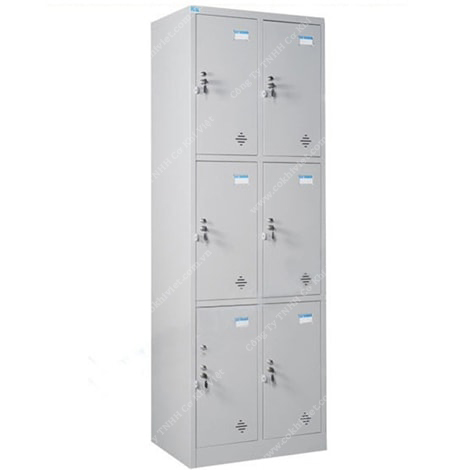 Cabinet-02
For bulky, long, and tubular items such as plastic pipes, metal pipes, wood trees, construction materials, it is recommended to use shelving racks. Help preserve good and neat goods,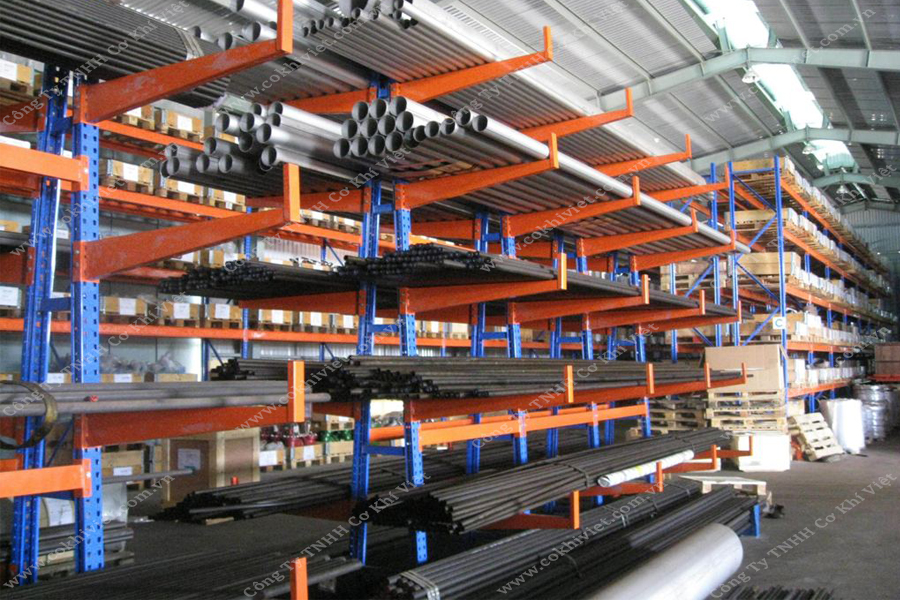 Cantilever Racking System
For other heavy items that need high-load racks, there are systems of heavy shelves such as Selective shelves, Drive-in racks, Double deep racks, floor racks, etc. These types of shelves depend on demand. If you want to export or import goods, whether the goods are identical or not, you need to consult with the manufacturer of the shelves to be consulted exactly what kind of shelves you need for your warehouse.
Selective Racking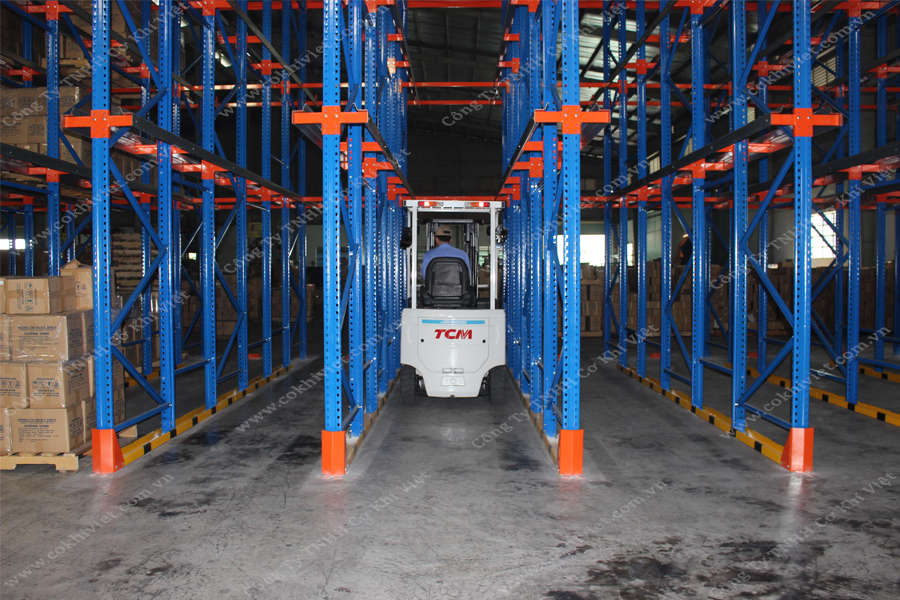 Drive-in Racking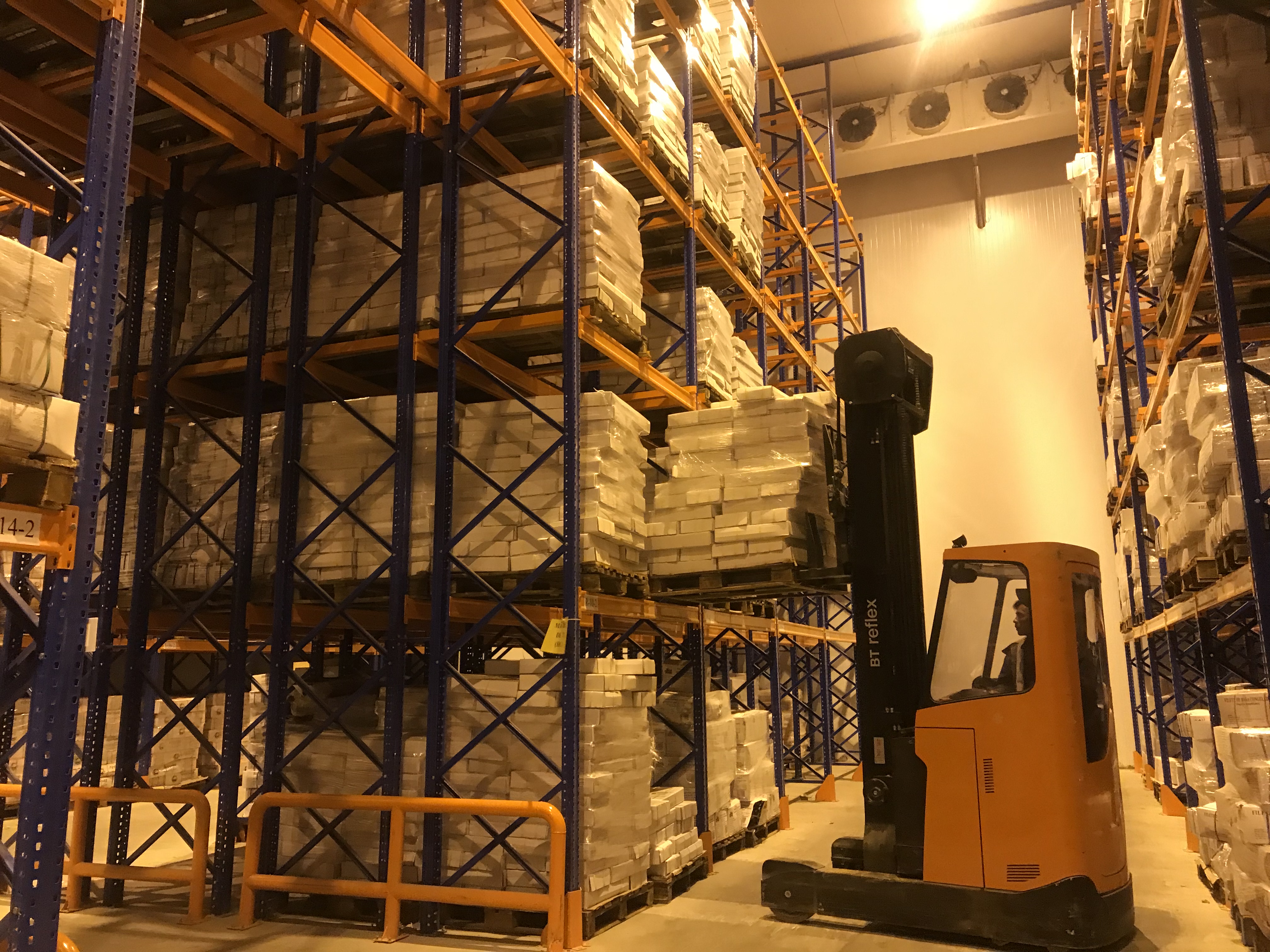 Double-deep Racking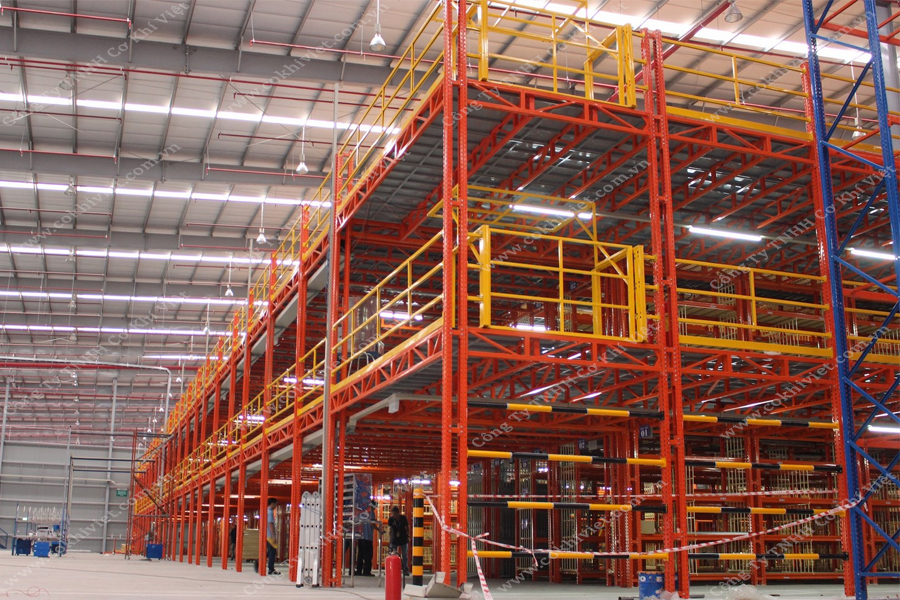 Mezzanine Racking
Above are the sharing as well as experience of selecting shelves for customers. Any comments and answers to questions, you can call directly to SDT 028 6264 0010 or email cokhiviet@cokhiviet.com.vn. Customers need to use storage racks, heavy load racks, .. Please contact Viet Mechanical Co., Ltd. immediately, we will conduct practical surveys and advice to you most. Viet Mechanical is committed to good products, good quality, professional and aesthetic.