Top 3 Most Popular Smart Steel Shelves
You are looking for an smart assemble steel shelf but you can not find a satisfied model, economical, neatly displayed goods. This article will give some points and outstanding features of the smart and popular assemble shelves on the market for customers to refer.
Let's find out the 3 most popular smart steel shelves!
I. What types of smart assemble steel shelves in the market?
1. Multi-purpose display shelves
Assemble steel shelves, file shelves, display shelves, bookshelves, etc. are very popular shelves used in many companies, offices, libraries, families, shops used to display products (cosmetics, files, wine, household appliances, ...) This shelf is made of steel electrostatic paint material, providing durability certainly suitable for heavy-duty goods.
Multi-purpose display shelves bring high efficiency in displaying and arranging goods, attracting customers, saving display space, avoiding harmful environmental agents such as mold, termites.
This shelf is relatively cheap, suitable for all customers: office, company, family. Currently Viet Mechanical provides display shelves with a variety of sizes to colors. Depending on the needs of use, you can choose the right type of shelf.
Standard size:
2 floors: L870 x W350 x H600 (mm)
3 floors: L870 x W350 x H900 (mm)
4 floors: L870 x W350 x H1500 (mm)
5 floors: L870 x W350 x H1800 (mm)
Colors: creamy white, black
2. Metal medium load shelf
Medium duty racks with loads up to 300kg / level are used mostly in small and medium warehouses or used in offices that contain heavy papers and need high durability. The structure is made of solid steel bars, easy to remove and move.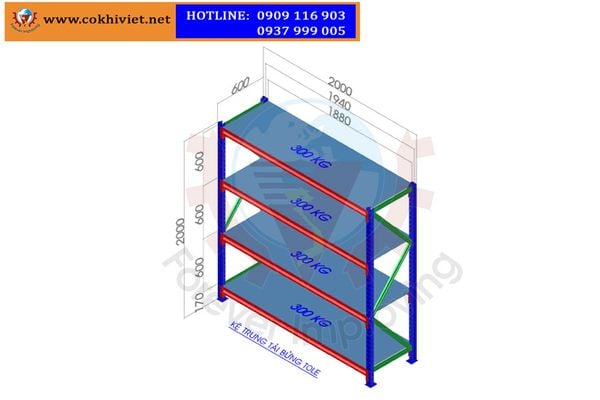 Unlike other medium load shelves in the market, it do not need using bolts and screws to make the connection.
This shelf range of Viet Mechanical has the following standard sizes:
L2000 x D600 x H2000 (mm)
3. V steel shelf
V hole steel shelves are the most common type of shelves that are commonly used from offices, shops, to families, etc. suitable for your space. Save maximum storage area, help space tidy.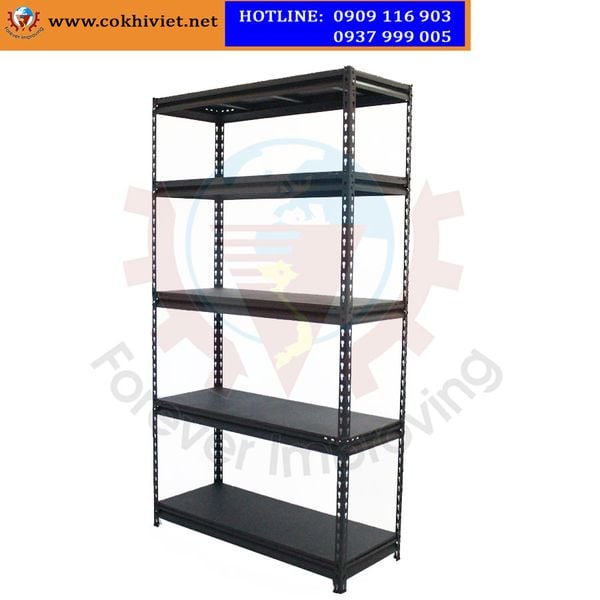 II. Quotation assemble smart shelves
Multi-purpose display shelves and metal medium load shelves are available, with standard sizes and colors, so prices range from VND 600,000 - VND 3,500,000 / set.
In addition to the available shelves, Viet Mechanical has made according to the required size of customers. It depends on characteristics, features, loads, Viet Mechanical will have different prices.
III. Place to buy smart steel assemble shelves on the market
On the market today there are many units that supply shelves, however, to find a reputable unit is not easy. Viet Mechanical is the leading units specializing in manufacturing, supplying and installing racks, assemble shelves, v-hole shelves.
With modern machinery line, automatic powder coating system, ensuring international quality standards and perfect service quality, meeting all the needs of customers.