Racking System For Pharmaceutical Warehouse in Vietnam
|
|
Pharmaceutical products are difficult to preserve, needed storing in right way, following strict process and GSP standard. So how is the best warehouse for pharmaceutical products?
GSP: "Good Storage Practices" are special measures applied in the preservation and transportation of raw materials and products at all stages of manufacture, store and distribute of drugs to ensure their arrival as the intended quality.

So, how to identify a pharmaceutical warehouse that meets GSP standards? It is based on two factors: building warehouse design (temperature, weather, light, humidity, odor, ...) and suitable equipment, tools such as air conditioning systems, measuring thermometer temperature and humidity in the warehouse, electric light system, fire protection system, ... Besides, the standard warehouse racking system is also an important factor in preserving drugs and pharmaceutical products correctly meet GSP standards.

Here are some examples of GSP standard drug storage shelves that are selected by many pharmaceutical companies and pharmacies as storage warehouses:
1. Light duty racks, medium duty racks, hole V shelves: suitable for storing light goods and heavy cargo flow with different sizes depending on the needs of customers, the payload is usually from 50 -100kg / floor shelf evenly, with low price and durable.
2. Selective pallet racking: often used in pharmaceutical companies specializing in the manufacture and supply of drugs, with a capacity of 300-1200kg / floor shelf, good loading capacity and containing a variety of goods, suitable for warehouses with small and medium area.

Why should you choose the above shelves for your drugstore?
• Rolled steel material, powder coated by automatic spray-paint technology against scratches, rust, safe when storing drugs, effective anti-explosion.
• The steel shelf is suitable for all weather conditions, even in the harshest weather.
• Well-loading, durable, aesthetic, high safety.
• Help optimize warehouse storage space.
• Flexible in assembling, moving.
• Contain a variety of goods.
Recently, Viet Mechanical has processed, manufactured and installed GSP storage racking system for Hau Giang Pharmaceutical Company (DHG Pharma).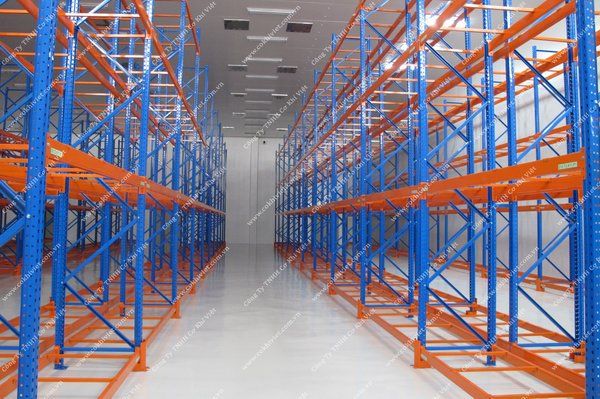 Total capacity: 1000 pallets. Divided into 3 warehouses:
• Final goods warehouse: 336 pallets
• Packaging warehouse: 192 pallets
• Raw material warehouse: 208 pallets
Sincerely thanks to the company has trusted to choose our products and services. We wish you more and more develop in the future.