The outdoor shelf system is a solution to help store and manage bulky goods such as plastic pipes, steel pipes, etc., which are often used by companies, distributors, agents of steel, plastic pipes, planks.
Advantages of outdoor storage shelves combined warehouse:
• Steel provides better compression and compressive strength than concrete thus allowing for lighter construction.
• Steel is manufactured in one shape to permit for applying efficiently and identically.
• Steel is highly impact resistant and less to crack or break.
• Steel is not flammable and does not produce toxic gases or fumes when exposed to high temperatures. The ability to retain heat of steel is a feature to protect the warehouse system.
Why should customers choose the outdoor storage system of Viet Mechanical?
• Omega pillars create stability for the whole shelf system.
• The structure of the braces ensures firmness and safety.
• Using powder coating material helps products avoid oxidation, rust, peeling.
• Design with roof helps preserve goods better.
• Individual design according to the needs of each customer, drawings for each project.
• Technical staff, enthusiastic sales staff, consultants at the right way.
• The moving and assembling is very simple and fast. Easily change the height of shelves, expand the warehouse.
• Store lots of oversized products such as chemical containers, drums, plastic tubes, ...
• Loading and unloading goods quickly.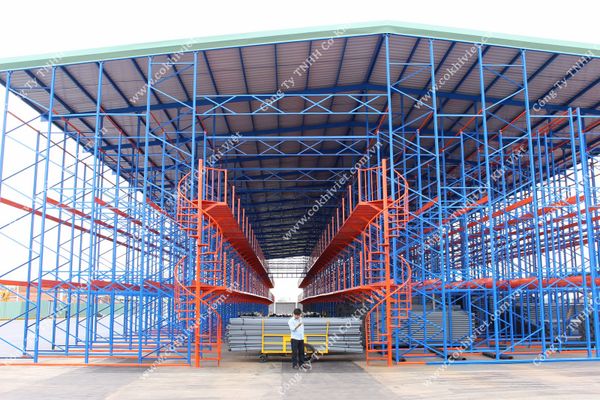 Racking system of Viet Mechanical Co., Ltd. is usually designed according to the characteristics of each warehouse and factory. Viet Mechanical will consult you on number of floors, size, load, paint color,... Besides, we also provide related products such as cage shelves, steel pallets, mesh pallets, trolleys, ladders, ... and other products.
With every projects, Viet Mechanical Co., Ltd., manufactures and installs storage racks for warehouses and monitors the whole process to bring the most safety for customers. Racking systems are strictly manufactured to ensure the quality and safety as committed.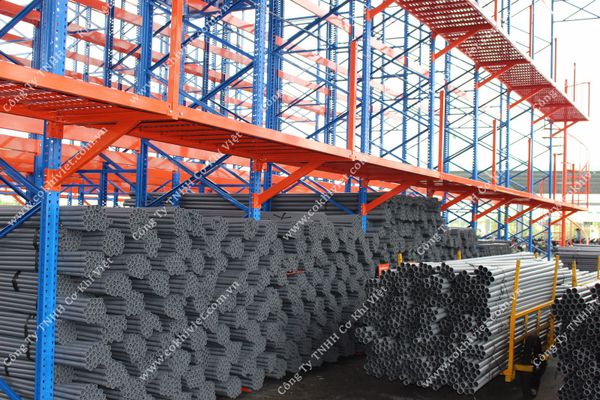 Please contact us for consultant and more information.