Drive-in racking system provides a solution for storing large volume products, types of pallet goods uniformly, eliminating area of ​​aisles, optimizing warehouse space. Drive-in racking system provides capacity for almost the entire warehouse area. Drive-in shelf system is usually combined with some other shelf solutions such as Selective, Double deep, ... creating a mixed warehouse system.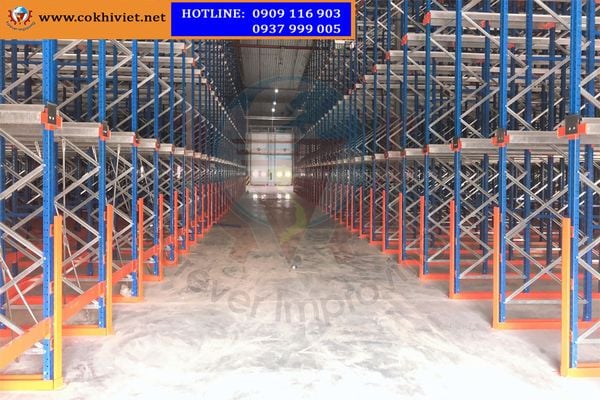 Drive-in racking system is designed with drive-through / drive-in rails for loading goods by forklifts. Stacked pallets are next to each other, one rail system can accommodate 2 to 8 pallets or more. Each Drive-in racking system can have from 3 to 6 levels depending on the size of the warehouse and the needs of customers.
Shelves are assembled with key bolts so it is possible to change the distance between ls to suit the needs of use.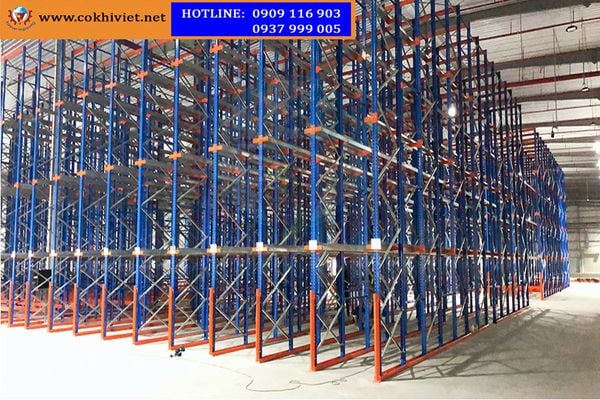 Drive-in (FILO: Frist in/ Last out): With the import-export design from one side only, this system is the frist one will come out last, suitable for assorted pallet goods, regardless of the expiry date.
Drive-through (FIFO: First in / First out): this shelf system is similar in structure to Drive-in shelves but the rails go through and the import and export are the opposite of the solution Drive-in shelves. With drive-through shelf solution, the importing from one side and exporting from the other side, the frist products will be exported first. Suitable for all kinds of warehouses that need to be considered expiry date such as food, drinks, etc.
Benefits of Drive-in racking system:
High efficiency, large warehouse capacity

Maximize warehouse space

Convenient to use a variety of forklifts

Bringing 2 storage solutions is Frist in / Last out or First in / First out, depending on customer demand.

According to research and experience, Viet Mechanical found that the Drive-in racking system is very suitable for many industries in Vietnam.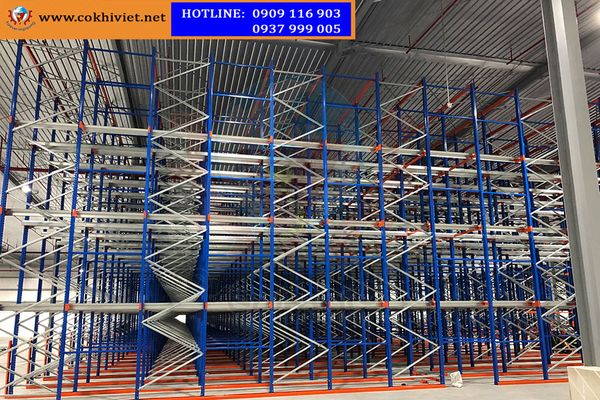 Benefits in Drive-in racking system of Viet Mechanical:
Drive-in / Drive-through racking solutions are closely linked, perfect and unified system that helps control risks and ensure sustainability after long-term use.

The design of Viet Mechanical has a solid and firm structure, meeting all the factors of load and safety.

The construction and installation are quick, timely and safe in all cases.