Heavy duty racking system assembled by standard
Business owners know that warehousing is an important part, which helps store resources and raw materials for producing and containing products that generate revenue for businesses in the future.
Therefore, the investment in a standard warehousing system can help avoid harmful agents from the environment as mold, rodents and prevent damage to businesses. If you rent warehouses, it can cost you a lot and hard to control. Why don't you think about building a professional racking system of your own?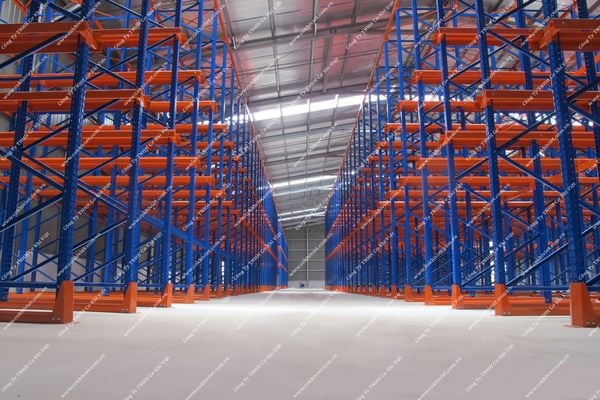 The good thing about warehousing is that you are more in control of your shipping and handling, especially with bulky and heavy goods. Businesses can not build heavy duty racking without a professional team. The experts will consult exactly what you need, how to ensure safety, save cost and bring high efficiency.
The heavy-duty rack system is designed to increase storage capacity, meeting the demand for import and export goods in warehouse effectively. The heavy-duty rack usually has a capacity of 1000kg to 4000kg on per shelf.
The heavy-duty racking system included: selective rack, double-deep rack, VNA rack, drive-in rack:
Selective rack

: flexible design, suitable for many types of businesses, can accommodate most types of pallets, goods of different sizes. Quickly export and import, high ability to select goods, easily load and unload goods.
Double-deep rack: designed to increase storage capacity, high applicability. The rack fully assembled by bolts and screws, therefore, it is easy for moving or changing the distance between floors.
Drive-in rack: designed to optimize the capacity by taking advantage of minimum distances. The system consists of consecutive rows of racks, no excess space. This system is suitable for the same kind and large quantities of goods. The Drive-in rack system has two access modes is Drive-in and Drive-thru. The main vehicle is a forklift or a reach-truck that run into racks.
VNA rack: The feature of this system is a small path, needed a dedicated vehicle and rails. High-density storage with high warehouse utilization. Flexible and quickly to import or export goods.
With a large-scale company, the warehouses contain heavy-duty goods, you will need support and advice from a specialized manufacturer of the storage racking system. We will give you a solution for installing storage racks, industrial warehouse racks, pallets, etc. Moreover, we give you a wide choice of materials, colors, layout, and size then let you know which one is the most economical and efficient.
The racking system of Vietnamese Mechanical Co., LTD is suitable for enterprises that are implementing the certificates which of both domestic and international such as GSP, GMP, ISO, HACCP, BRC, etc. The system also can be applied for the following industries as pharmaceutical, cosmetic, medical, food, etc.
For more information, please contact us - Vietnamese Mechanical Co., LTD, a unit selected by many domestic and international businesses in both products and services.