VNA Rack - Very Narrow Aisle racking system
Main features of VNA rack
VNA rack stands for Very Narrow Ailse rack, which means it has narrow aisle. To understand more about the definition of VNA, please see here. So why is this name? Features VNA structure is Selective rack but it is optimized area by zooming out the aisle, just fits a forklift. Increasing storage area up to 40% compared to selective systems, increasing access to pallets by 100%, convenient for quick load - unload.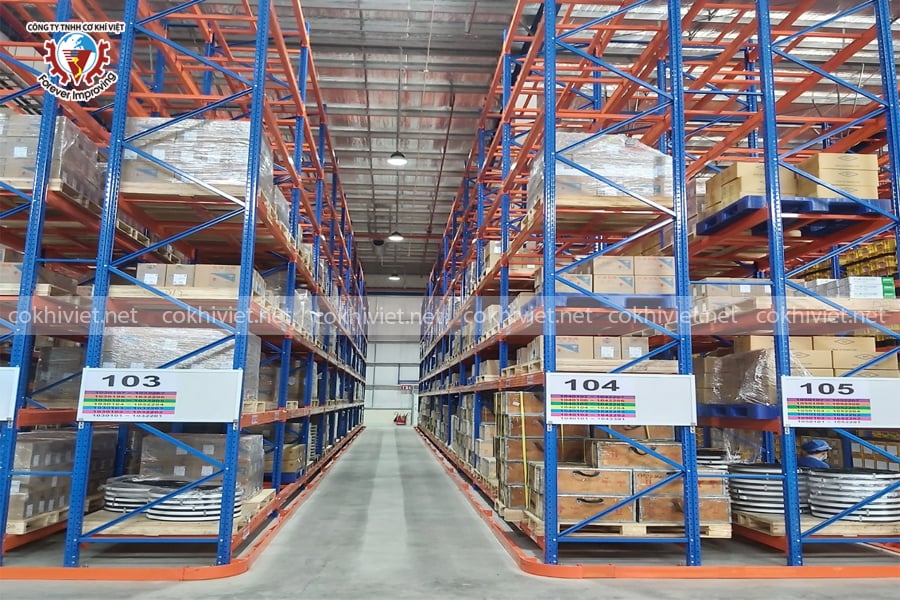 Besides, the design and installation of VNA racks need to note that concrete are constructed with high flatness. The floor surface between the aisles should design guide rails for forklifts to walk on because the aisle is very narrow.
VNA racking system made by Viet Mechanical is made from rolled steel, surface treatment and anti-rust powder coating, ensuring safety for operators in warehouse, efficient goods circulation.
Very Narrow Ailse racks use specialized forklifts - pyramid forklifts. This type of forklift can move in narrow aisles and can lift up to very high reach.

Very Narrow Aisle racking project by Viet Mechanical
Very narrow ailse structure (VNA)
Omega cylinders increase bearing capacity for the whole system
Horizontal tie bar & cross bar tie: connected with omega pole to bring certainty, safety for the whole system.
Beam bar: the pallet is placed in here
In addition, based on the actual use and different types of racks, we will have the best solution to ensure safety and long-term use efficiency.
Warranty - maintenance of VNA system
Currently, in addition to the Vietnam Mechanical warranty, also provides lifetime maintenance services for heavy racks such as selective racks, double deep racks, drive in racks, VNA racks, shuttle racks, ... Viet Mechanical is the only company provides this service in the market. We always accompany customers throughout the using process to ensure everything is working in the best way.
Some Very Narrow Aisle rack made by Viet Mechanical
VNA racking system in Da Nang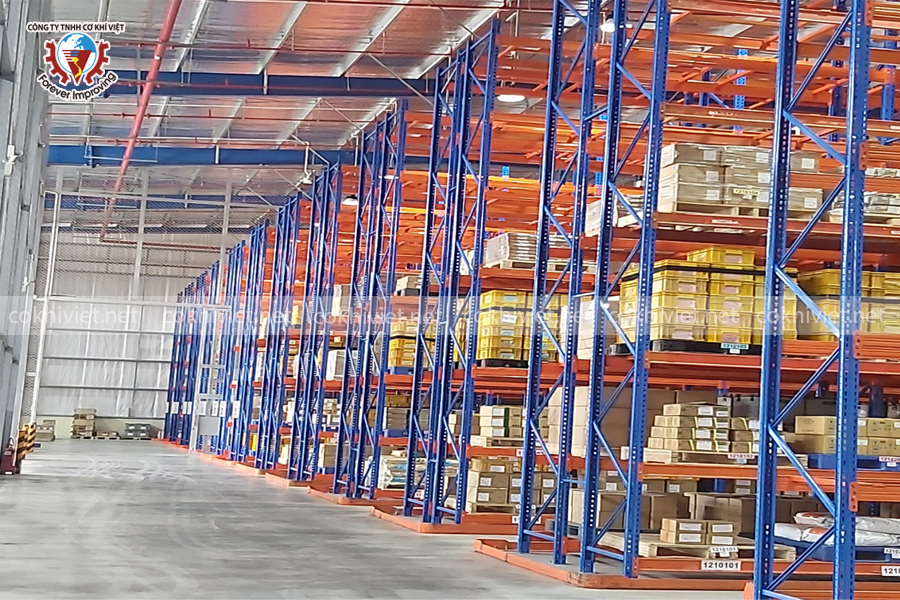 VNA racking system in Cu Chi, HCMC

Why choose VNA racks at Viet Mechanical
After conducting the customer survey, consulting the appropriate racking system for the warehouse. The team of Viet Mechanical engineers will draw up the design drawings, comply with safety standards, bring the best optimization for customers, with the most economical cost for the business.

Viet Mechanical continuously improves service quality, invests in advanced technology research and smart automatic production process to create high quality products with high efficiency. Bring the best experience to customers.