Producing Steel Pallets For Garment Industry
With the development of society as well as the manufacturing, distribution and storage industries, the demand for pallets is increasing day by day and appearing in almost all industries. There are many different types of pallets: wooden pallets, plastic pallets, paper pallets, steel pallets, ... depending on the needs of customers that have different types of pallets. In terms of durability and high efficiency, steel pallets are the best choice.
Steel pallet is often widely used in industrial areas with outstanding advantages:
High load capacity up to 1500kg
Economic savings: storing time of steel pallets is 15 years or more, while wooden pallets, plastic pallets often have a lower life of 3-4 months.
Good storage and preservation of goods,
Preventing moisture, mold, avoiding harmful agents from the environment because of stainless steel, high-class powder coating, not oxidized, not dehumidified like wood pallets, or scratched, dirty like plastic pallets. Steel pallets do not affect the quality of goods.
Depending on the needs, the processing of steel pallets will suit the needs of each customer. Steel pallets are designed according to: load capacity, size, quantity, distance to touch the background, colors, and some other specifications such as thickness, type of steel, spray paint. An important feature in the production of steel pallets is the welds. This is a process that needs to be meticulously machined using modern machines ....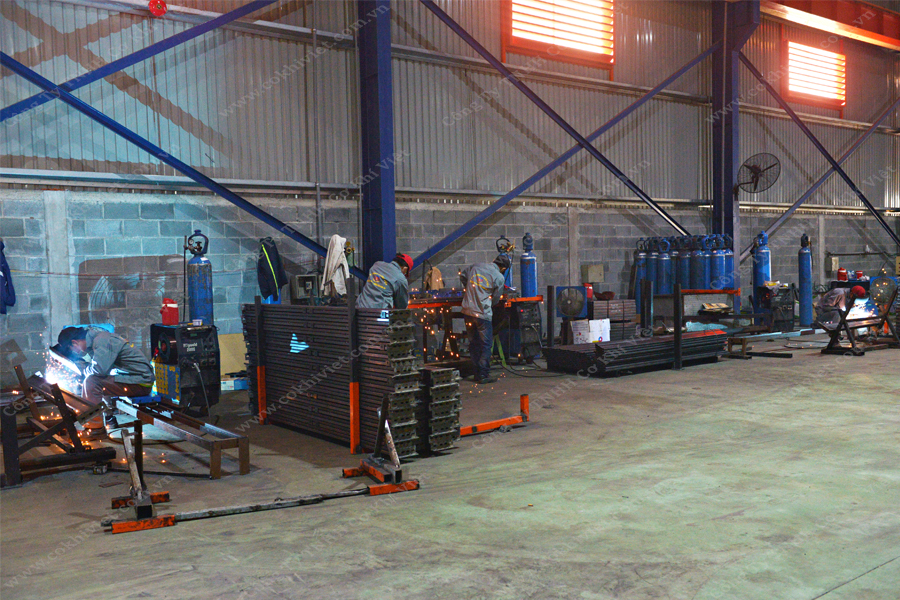 Photos of welding team at Viet Mechanical Factory
Through many stages, rigorous testing process to bring quality products, reasonable prices is the leading factor that we are interested in the production of steel pallets.
Before the development of the manufacturing industry, the demand for storing goods is increasing, steel pallets are also present in most industries, especially in the garment industry to develop the country's fashion industry, steel pallets are being searched and used quite a lot, only in the textile industry, the percentage of companies that choose steel pallets to preserve goods is 100%. So what is the reason?
When the textile product is finished, to ensure the quality of the textile fiber, wooden pallets cannot be used to avoid damaging the fibers, wooden or plastic pallets are easy to get dirty and difficult to clean. That is why textile companies today choose steel pallets to use in their product storage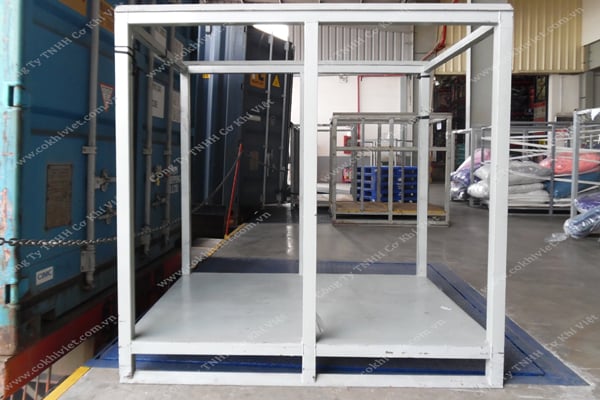 Steel pallet used in garment industry
The highlight features of steel pallets of Viet Mechanical:
Helping to store goods more neatly, ensure hygiene and environment for the warehouse
Reasonable price, environmentally friendly, limiting risks such as fire, mold, ... long usage time
Standard steel materials, anti-rust, advanced electrostatic paint
Import and export goods easily, suitable for all spaces
Can be stowed, stacked each other when there is no need to use, saving space effectively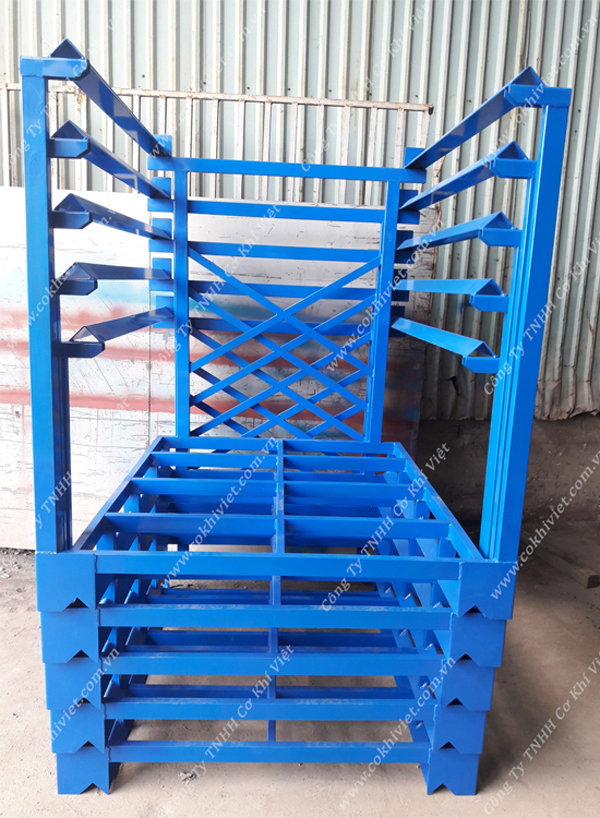 Pallets stacking when there is no demand
When having need to use steel pallets, you should carefully look for the reliable unit to ensure quality, long-term use, and pay attention to the load of each type of pallet to ensure safety.
Choosing steel pallets with competitive price, good quality is not easy. Come to Viet Mechanical Co., Ltd. - specializes in providing manufacturing of steel pallets, pallets for textile, storage racks, industrial warehouse racks for detailed advice.